Is Raviteja replacing Balakrishna?
Sat 07th May 2011 11:41 PM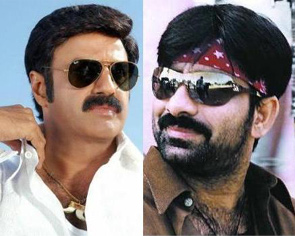 There is a strong rumor in industry circles about the cold war between Balakrishna and Raviteja. Though none has sufficient reasons to prove their rivalry but here is one more instance where Raviteja seems to be in profit with Balayya's inabilities. Yes, director Ramesh Varma of 'Ride' fame narrated a strong story line to Balakrishna long ago with a tentative title 'Bheeshma.' Even producer Bellamkonda expressed his solidarity to produce the flick on very high budget.
Later on something went wrong between Balayya and Bellamkonda. With in next few weeks the project is declared as shelved by inner sources. Now, Ramesh Varma wants to give a new life to the same story and Raviteja is gossiped to have readily accepted in donning the role of 'Bheeshma' for same producer Bellamkonda. If everything goes right, this movie might start in this year end. Presently Ramesh Varma is directing Raviteja for 'Veera.'
Tags:
RAVITEJA
BALAKRISHNA
BHEESHMA
REPLACEMENT
RAMESH VARMA
BELLAMKONDA
VEERA
5
Latest