Heroine's nudity angles in bed room!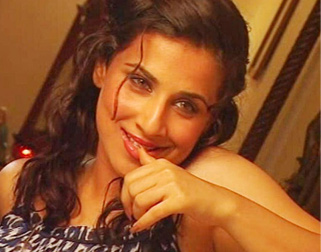 Veteran painter MF Husain's muses look strange. All the way from Madhuri Dixit's 'Dhak Dhak…' in 'Beta' to latest Anushka Sharma in 'Band Baaja Baraat,' our Husain Saab is growing young at heart with each day. Right now strong news in Bolly circles is that Husain forwarded a proposal to sexy Mallu beauty Vidya Balan for sketching her nude pose.
An age equivalent to her grandfather, Vidya Balan hasn't minded it and is known to have said 'Ok…Grandpa.' As this painting from old man's brush is obviously to cause a big stir in entire Indian film industry, Vidya doesn't want to take this in lighter vein. So, Bollywood gossips that she is already practicing the best possible nude poses in her bed room searching on net. Accordingly Husain also agreed to come up with a pose at Vidya's wish. Now, Husain will be surely excited to know on what kind of weird and unusual angle Vidya Balan will pose before him.
Tags:
VIDYA BALAN
NUDE POSE
MF HUSAIN
SKETCH
5