Kalyan's Mega trap on Dasari?!
Mon 13th Dec 2010 05:45 PM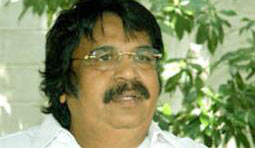 Legendary Dasari Narayana Rao is very near to create a valuable record of his own with the 150th film 'Parama Veera Chakra' which is slated for release in next few weeks. Much before the release, here is a shocking news making rounds in media circles that producer C. Kalyan is invariably hurt by the attitude of Dasari who is demanding more remuneration than Balakrishna for this movie.
Sources say that Dasari is looking for a fair settlement of remuneration with producer much earlier before release of the movie while an intelligent C. Kalyan grapevines to have come up with a proposal to offer the director a share of profit 'Parama Veera Chakra' collects after the release. Now, one has to see how will this movie fare? Do Balakrishna, Kalyan and Dasari combo has that stamina to woo the audience? Surely, this one looks to be a safe trap by Kalyan on Dasari.
Tags:
PARAMA VEERA CHAKRA
DASARI NARAYANA RAO
REMUNERATION
5
Latest