Junior NTR can't wait any more for LP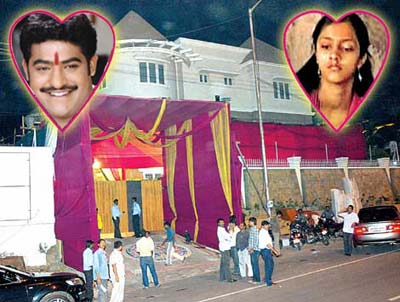 A peculiar point which would appear strikingly in Junior Ntr's decent and bumpy career till date is that, he never gets into spicy controversies. When heroes of his age like Allu Arjun, Rana, Ramcharan, Naga Chaitanya and others openly flirt the girls of their age or their heroines either in shootings or personally, Junior Ntr never hogged the news with these kinds of silly issues. Call it his reserved attitude or inherent shyness, Junior Ntr has got engaged to cute little girl Lakshmi Pranathi long ago and lost that freedom.
Even though one would have seen too many great muhuraths and auspicious lagnams left back in this year and many more to come in next year 2011, it would be in the better interest of Junior Ntr to tie the knot at the earliest possible so that false damaging rumors doesn't start evading the market. When Allu Arjun who entered the wedding scene category late to Junior Ntr is already running for February muhurath but why is that our on screen Young Tiger still adamant and stepping back? Now, close source say that Tarak developed a good rapport with Lakshmi Pranathi and he may not be able to wait anymore thriving to hear the wedding bells.
Tags:
JUNIOR NTR
MARRIAGE
DELAYED
REASON
LAKSHMI PRANATHI
WEAKNESS
ALLU ARJUN
5