Hot Bong Babe pregnant before marriage?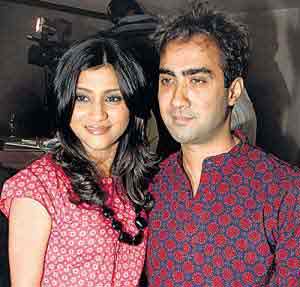 Konkana Sen, the famous Bong Babe in Bollywood has gone for a hurried marriage with Ranvir Shorey on September 3. The reason behind this hush-hush wedding is getting a right reason these days sparking off a popular rumour that Konkana was already pregnant at the time of marriage. Well, here is the proof as per a Bollywood source.
When both of them were spotted at Ketnav theatre earlier this month, Konkana's baby bump was visible and the woman was glowing. But even there is other version that Konkana Sen was a frequent smoker and tippler and she recently gave up alcohol after marriage. Konkana's mother Aparna is to join her early next year and Konkana is to deliver in March 2011, they say. Well, wedding in September and a baby in March!!!???
Tags:
KONKANA SEN
PREGNANT
BEFORE MARRIAGE
RANVIR SHOREY
5