Radhika turns broker for Vishal marriage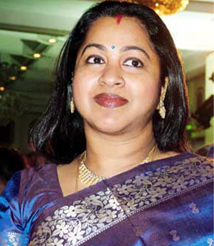 Action hero Vishal is in love with Tamil top hero Sarath Kumar's daughter Vara Lakshmi. They both have disclosed about their love to their respective elders but disappointed with rejection from the side of Vishal's family due to old differences between Vishal's father GK Reddy and Sarath Kumar.
However actress Radhika Sarath Kumar, step mom to Vara Lakshmi is gossiped to have started the mediation between both families showing an inclination in going for the alliance. While Vara and Vishal are denying the media speculations, Radaan Radhika is brokering silently to mend the relationship. If her attempts turn fruitful, then an official announcement may be made on the marriage very soon, say Kollywood sources.
Tags:
RADHIKA
VARA LAKSHMI
VISHAL
MARRIAGE
LOVE
GK REDDY
SARATH KUMAR
5