Damodar reveals Rosaiah's 'grand conspiracy' to block T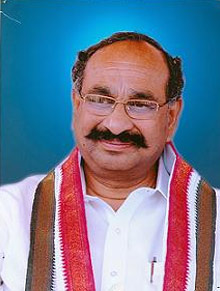 Alleging that all major political parties were involved in the murky machinations to block the formation of a separate Telangana state, former minister and senior Congress leader R Damodar Reddy on Monday 'revealed' a 'grand conspiracy' evolved on December 7, 2009 by former chief minister K Rosaiah and forger government advisor KVP Ramachandra Rao.
Alleging that the 'grand conspiracy' was hatched by Mr Rosaiah and Mr KVP Ramachandra Rao, Mr Damodar Reddy told media persons at Assembly Media Point that Health Minister DL Ravindra Reddy and former minister JC Diwakar Reddy were lured to become part of this grand conspiracy to block the Telangana state formation at any cost.
The former minister further accused that Dr Ravindra Reddy and Mr Diwakar Reddy then finalised the strategy with Telugu Desam Party and Praja Rajyam Party leaders.
Later the TDP, PRP and Congress leaders obstructed the formation of separate state by submitting their resignations in the aftermath of the famous December 9, 2009 statement, he claimed.
The resignations at that time led to the constitution of the Justice BN Srikrishna Committee.
The former minister said that the 'grand conspiracy' was evolved and put into place immediately before Congress Legislature Party met on December 7, 2009, and a party resolution handing over the decision on Telangana state formation to Congress president Sonia Gandhi.
After the passage of that resolution, the High Command had made an announcement on December 9, 2009. But former chief minister K Rosaiah had objected to the High Command's decision, Mr Damodar Reddy claimed.
The former minister said that now that the conspiracy has been revealed, Mr Rosaiah and KVP Ramachandra Rao must apologise for acting against the High Command's decision.
Mr Damodar Reddy further defended Congress MP Gutta Sukhender Reddy's statement that Mr Rosaiah should be held responsible for the suicides in Telangana and political unrest in the state.
Tags:
CONGRESS
DAMODAR REDDY
GRAND CONSPIRACY
DL RAVINDRA REDDY
KVP RAMACHANDRA RAO
HIGH COMMAND
TELANGANA
ROSAIAH
GUTTA SUKHENDER REDDY
POLITICAL NEWS
AP NEWS
4