Venkata Swamy (Kaka) on ventilator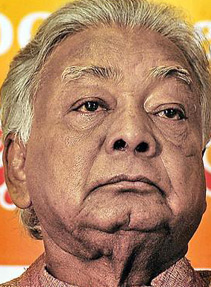 Senior Congress Leader from Telangana region, Mr. G. Venkata Swamy fondly called as Kaka is put on ventilator along with installation of pacemaker to heart at Yashoda Hospital. His health condition is very critical. Actually he was admitted in Yashoda Hospital, Somajiguda on Friday evening with respiratory problems and high Blood Pressure. As his vital parameters were maintaining normal levels, doctors thought that he will be recovering soon.
All of the sudden Kaka's heart beat got down yesterday midnight forcing the doctors to shift him on ventilator. Team of doctors at Yashoda arranged a media meet to explain the condition. Kaka will be kept under observation for next 24 hours to estimate the situation in next update.
Tags:
VENKATA SWAMY
KAKA
CRITICAL
VENTILATOR
VENKATASWAMY
PACEMAKER
YASHODA HOSPITAL
CONGRESS
SENIOR LEADER
5