Mumaith's fight with Vijayashanthi !
Sun 29th Nov 2009 06:00 PM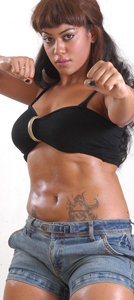 The mega failure in Telugu "Punnami Naagu" of voluptuous Mumaith Khan is now dubbed into Tamil with the name of "Pournami Naagu." This movie has even completed a grand audio release funtion and now slated for release.

Trailers of Mumaith Khan performing dare feats in "Pournami Naagu" looks impressive for Tamil people and some of the movie lovers have even started to rate her as Lady James Bond of South. When the news of this title "Lady James Bond" being conferred to Mumaith Khan was out, those ardent fans of Vijayashanthi started to question the eligibility of Mumaith Khan for that title as "Lady Amitabh" and "Lady James Bond" was already attached prior to the name of fire brand politician Vijayashanthi. It is better that these titles may not initiate any fight between Mumaith Khan and Vijayashanthi's fans.
Tags:
MUMAITH KHAN
HOT
SEXY
VIJAYASHANTHI
PUNNAMI NAAGU
PORNAMI NAAGU
LADY JAMES BOND
6
Latest