'Rubber Singh' Comedy in Flop Film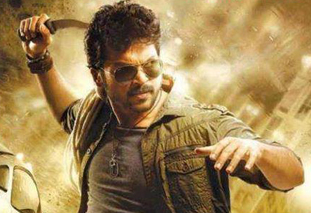 Using the craze and winning charm of hit films as publicity tool for other films is a general marketing principle. It happened nearly one year post the super hit celebrations of Mega Fans with 'Gabbar Singh.' Still, it is great to see some of the directors using the name of 'Gabbar Singh' in their newly released movies sending the right positive message to Power Star Fans.
We are here with the context of 'Gabbar Singh' comedy used in fresh dubbing ticket of 'Bad Boy.' There is a hunter character named with title of Pawan Kalyan movie portrayed by lean artist Manobala. More than fun, it was frustration for audience to see Manobala beaten black and blue by hero Karthi. Director Suraaj added these forest episodes to generate comedy but unfortunately they have become so lengthy and exhaustive. Even, Power Star Fans may not encourage such cheap tricks.
Tags:
BAD BOY
KARTHI
GABBAR SINGH
SURAAJ
COMEDY
MANOBALA
5