Mega Star Doing a Big B for 'Toofan'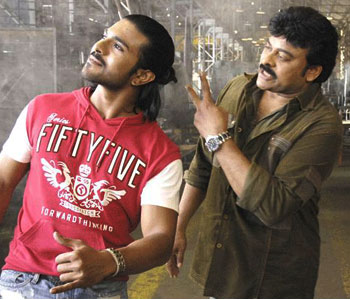 Continuing the support to extend the arms of Mega family over Indian Box Office, Chiranjeevi has yet again gave the time for Ramcharan. After the super duper cameo of Mega Star for Mega Power Star in 'Magadheera,' we are now hearing the same reports even for 'Toofan.' Yes, the official Telugu version of 'Zanjeer' will have Chiranjeevi appearing in a short and powerful special role.
If Amitabh Bachchan is doing the same honor for Hindi version, director Apoorva Lakhia has succeeded in impressing Chiranjeevi with his hardwork and won his nod to do a cameo for 'Toofan.' This will not only add extra star power to the mvoie but also serves as a positive omen because 'Magadheera' in their combination stood as an industry hit and we expect the same even from 'Toofan.' What do you say folks?
Tags:
CHIRANJEEVI
TOOFAN
RAMCHARAN
SPECIAL ROLE
MAGADHEERA
APOORVA LAKHIA
5