Jagan overshadowed by Sexy Heroine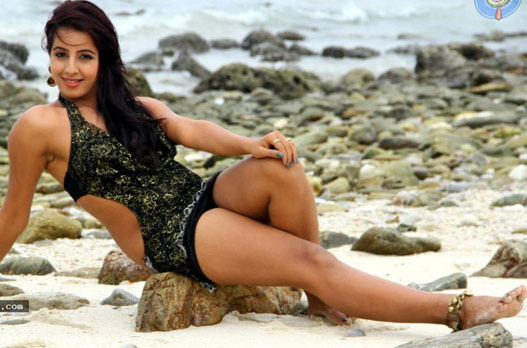 Sorry to confuse you. To be clearer, Jagan in our context is not politician YS Jaganmohan Reddy but it is the name of character in a new film 'Jagan Nirdoshi.' Debutant actor Siva plays the lead role while hot babe Sanjana is doing female lead. Though movie was opened to shoot with quite a bit of enthusiasm due to controversy associated with the title but soon cast and crew have struck to their task of completing the movie on time.
A new bunch of pics related to 'Jagan Nirdoshi' are released today and the first impression is surely about heroine Sanjana who seems to have gone all open in a glamorous character. Siva being the new face, everywhere Sanju is clearly dominating him with her hot sex appeal. Perhaps, Sanjana is known for this kind of skin show and given the beach and a raunchy number, how can dance composer Amma Rajasekhar leave her without exploitation. Final line is pretty transparent…Sanjana has become the only attraction for 'Hagan Nirdoshi' till now. If any doubts, click this link to view the gallery.
Tags:
SANJANA
JAGAN NIRDOSHI
SIVA
HOT PICS
AMMA RAJASEKHAR
5