TV Anchor forced into Prostitution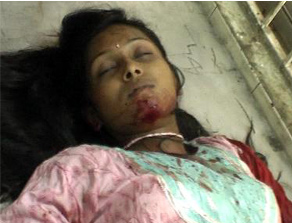 Not so popular TV Anchor Shruthi alias Meghana Reddy is stabbed and her throat was cut by husband Nagender Reddy. As per media reports, Shruthi working for Studio N's 'Telugu Ammayi' program is continuously harassed by husband to join prostitution. They are leading their lives separately after Shruthi complained on Nagender in Malakpet PS.
Yesterday when Shruthi went to home in Gandhi Nagar with two constables to collect her belongings, Nagender injured her with knife by cutting her throat. She is immediately rushed to Gandhi Hospital and till the late hour yesterday her condition was known to be very critical. Shruthi alleged that Nagender had affair with many other women while relatives close to Nagender said that he did not like his wife to work for TV media. For what ever the reasons, Shruthi is lying serious on the death bed.
Tags:
SHRUTHI
MEGHANA REDDY
TV ANCHOR
STUDIO N
TELUGU AMMAYI
STABBED
HUSBAND
NAGENDER REDDY
5