Top Hero puts it on Heroine Cleavage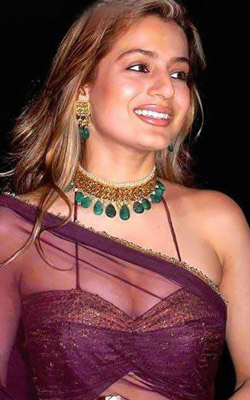 Sanjay Dutt and Ameesha Patel are heard to have got into a distinctive moments of embarrassment when they both came together at director Rohit Dhawan's Sangeet in Goa last week. Reports say Ameesha wore a chaniya choli costume with her left cleavage exposed abundantly at the party which Sanjay Dutt did not like because Ameesha is a close friend of his wife Manyata. In no time Sanju Baba took dupatta from her shoulder draping it around making sure that cleavage is covered fully.
Ameesha thought this is as none of the business of Sanjay and did not like talking to him. On the other side, the sexy actress said media friends of feeling so lucky to have someone like Sanjay Dutt who is very protective about her. 'All the meaningless rumors flying on us are just baseless rumors,' Ameesha added.
Tags:
AMEESHA PATEL
SANJAY DUTT
ROHIT DHAWAN
DUPATTA
5