Extra Exposing for Mahesh Babu!?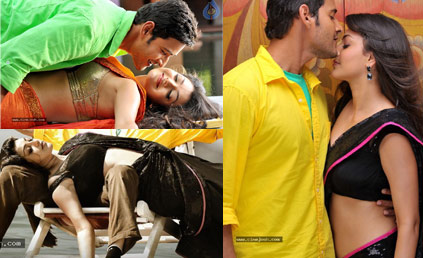 To dominate Mahesh Babu on the screen would be almost an impossible task for any heroine who romance besides him in any of the film. All the way from Priety Zinta to Samanta, it was Mahesh Babu the winner while heroines besides him look almost faded. Thanks to ever increasing charm on face, Mahesh has inherited from his dad Super Star Krishna. Well, Puri Jagannath seems to have found a new strategy to give some sort of attention to Kajal Agarwal in 'Busienssman' and the sumptuous skin show is the new weapon.
Apparently Puri is known for maximum exploitation of his heroines by projecting them ultra glamorously on screen. As Kajal is making a come back to Tollywood after a small hiatus and that too besides Mahesh Babu, her first look on the posters is enticing is the unique verdict from viewers. However Kajal, known for conservative approach in exposing has gone extra mile to at least equally match with charm of Prince.
Tags:
KAJAL AGARWAL
EXTRA EXPOSING
BUSINESSMAN
MAHESH BABU
PURI JAGANNATH
5