Drunken heroine put on Sex!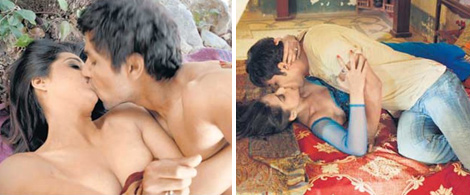 Few months ago we have heard about curly haired Kangna Ranaut having a peg of whisky before acting in a scene with Madhavan in the film 'Tanu Weds Manu.' That scene actually demanded Kangna to give a drunken expression. Everything for the movie and she lived in the character. Now, same such situation is repeated for Bollywood's hot bomb shell Mahie Gill and the name of film is 'Sahib, Biwi Aur Gangster.'
Media sources report that character of Mahie Gill running an extra marital affair with Randeep Hooda has to portray a wild sex act of pulling the hero onto bed. In order to give authentic expressions, Mahie Gill has drunken alcohol and thus erupted her inner desire making the scene turn red hot. Director Tigmanshu was more than satisfied by this sex scene and he is confident of Mahie Gill setting the screens on fire with most dedicated performance in these hot scenes.
Tags:
MAHIE GILL
SAHIB
BIWI AUR GANGSTER
HOT
DRUNKEN SEX
AUTHENTIC EXPRESSIONS
DIRECTOR TIGMANSHU
MAHI GILL
RANDEEP HOODA
5