Lucky hero for Charmi Lip Kiss!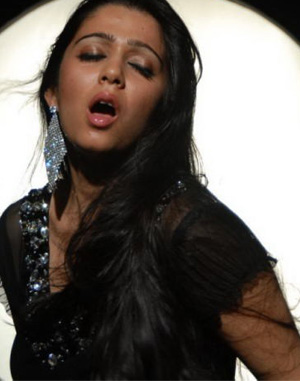 The astounding success of 'Band Baaja Baaraat' in Bollywood made many Telugu producers run for the remake rights. News broke out on Puri Jagan's camp interested in this flick for his brother Sai Ram Shankar and later even the name of Sunil was suggested. Obviously movie being a youthful romantic entertainer, any young hero will serve the purpose while heroine is going to be the central point in success of Telugu 'BBB.'
Best name going rounds in film industry for the role of Anushka Sharma who torn apart the movie with her energetic performance as Wedding Planner is going to be taken by Charmi. This kind of role is a cake walk for Charmi who shouldered many films independently. As there is huge scope for mouth watering lip kisses in nearly two scenes, one has to see who will be the lucky hero to suck the lips of Charmi. By the way, 'BBB' Telugu version is heard to be announced soon.
Tags:
CHARMI
BAND BAAJA BAARAAT
TELUGU VERSION
ANUSHKA SHARMA
LIP KISS
5