South sex siren to blow in Hollywood!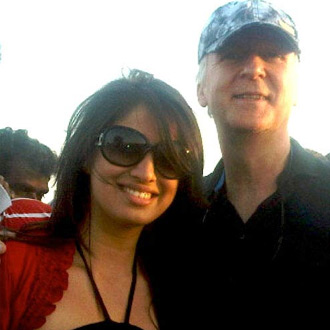 Lakshmi Rai, the sizzling south sexy siren known for hot and awesome assets appears to have targeted on Hollywood. Yes, she recently met James Cameron of Titanic and Avatar fame in Abu Dhabi during a media summit.
The world's most famous director was there in the Arabian city to give a lecture on 3D. During this meet, director Priyadarshan tried to get an appointment with James but surprisingly Cameron turned up at the location of a desert near Abu Dhabi to watch the shooting. Exactly at the same time Lakshmi Rai shooting with Mohanlal met James and he was impressed by the sex appeal of this beauty. Now, Laksmi says that James invited her to Hollywood for his next film. Can we really trust this girl folks?
Tags:
LAKSHMI RAI
JAMES CAMERON
ABU DHABI
MEET
SEX SIREN
5